Small Town Culture with Josh Arnold
Country music star, Josh Arnold, and the Small Town Culture team are coming to town to create a hit song which is written with locals, sung with locals and filmed with locals! Josh and his team are here October 6-11, 2020, and we're inviting the whole town to be part of the excitement!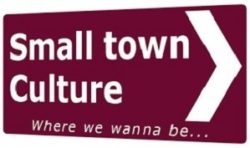 About Small Town Culture
Small Town Culture is a production company that creates original music and film projects in collaboration with schools and community groups. They collaborate with participants through song writing workshops to create original songs that become town anthems, which are professionally recorded on location and an accompanying film production created.

Small Town Culture projects are facilitated and run by Josh Arnold who is a song writer, performer, music producer and film director with more than 20 years of industry experience. Josh has won a Golden Guitar at the Australian Country Music Awards and has had his music played on hit radio stations Australia-wide, and on TV shows around the world.
And now we've joined the hit list! 'Better in Blackall' is a collaboratively written song by Josh Arnold and local girl, Gretchen Hayman. Recording and filming happened locally in October 2020 and has now been seen by over 300,000 people worldwide!
CHECK IT OUT HERE